FRIDAY FRAG FEST
GET TOGETHER AND FRAG LIKE IT'S 1999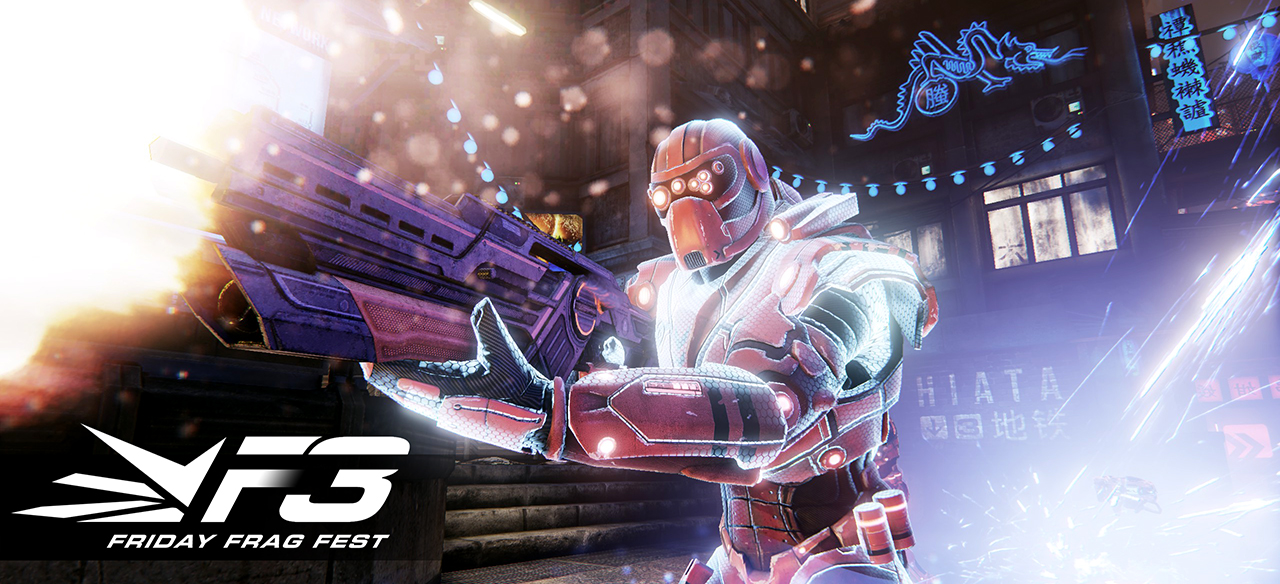 From now and until TOXIKK's full release (and before we start to officially advertise the game), we want to get the
FRIDAY FRAG FESTS
(F3) going as a weekly organized event. Join us, bring your friends, and let's frag into the wee hours of the morning.
WHY?
There are a lot of people who want to play more TOXIKK, but don't find the amount of concurrent players, as everybody playing is scattered around during all possible weekdays and day-times. We believe that a focused event will help you to enjoy the game a lot more, as the
F3
will hopefully make it a lot easier to find the amount and the variety of competitors you're looking for.
WHEN?
EVERY FRIDAY NIGHT
STARTING JULY 3RD 2015
Given the inevitable time zone hassles, we have two starting times. Feel free to play either event, just be aware you might not get the best ping across the ocean. Although this might be a good test for our netcode. No specific end time, play until you dominate the night.
EUROPEAN EVENT LAUNCHES AT
07:00 PM (GMT)
Equals 11:00 AM/PST, 2:00 PM/EST
LOCAL TIME EXAMPLES
London: 07:00 PM / 19:00 h
Berlin: 08:00 PM / 20:00 h
Moscow: 9:00 PM / 21:00 h
US EVENT LAUNCHES AT
08:00 PM EST (5:00 PM PST)
Equals 12:00 AM GMT
LOCAL TIME EXAMPLES
New York: 08:00 PM
Los Angeles: 05:00 PM
Dallas: 07:00 PM
WHERE?
You may just hop on every server available of course (especially if there's no room on one of the servers in the following list), but trying to bring some focus with the event, we will primarily use the following official machines:
EU PLAYERS JOIN
EU 17 CYGNUS (Skill Class: All)
EU 18 ATLAS (Skill Class: All)
EU 06 ORION (Skill Class: 1-6)
US PLAYERS JOIN
US 16 ASTRA (East - Skill Class: All)
US 15 CERES (East - Skill Class: All)
US 05 PROTEUS (East - Skill Class: 1-6)
US 18 APOLLO (West - Skill Class: All)
WHAT ELSE?
If you are a member of the
OFFICIAL TOXIKK GROUP ON STEAM
, you will get live updates/invites when these events occur so you don't miss out on the action. If you aren't a member, it's worthwhile to join up for this as it will make getting the latest event news a lot more convenient.
To get things started, we'll just do a bit of fragging on the first F3 events, but we will try to have some specials for future events. Also, be sure that there'll always be some of the devs around. So, if you want to tell them something best be told with a shotgun pointed at their heads... this is your chance to speak out.
Also, if you are interested in
voice chat
join the community Teamspeak at
ts.toxikk.org
.
So, if you have been itching to play but feel like you haven't had the chance, this is that chance. Come join us, have some laughs, get some kills, and enjoy yourself. See you out there.