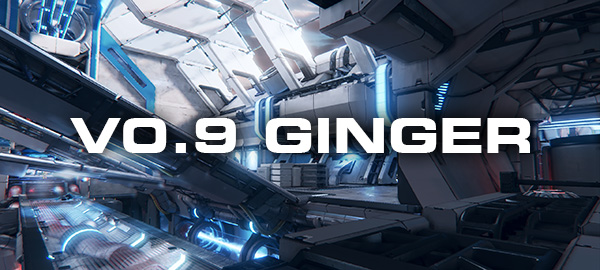 RELEASE DATE: OCTOBER 21, 2015
----------------------------------------------------------------------------
This patch brings your v0.89 Parsley build up to v0.9. It's the first patch of the Ginger generation and primarily focuses on a new map and a fresh visual theme (sci-fi/tech). V0.9 also brings some new features and fixes that were requested by the community, including some experimental multi display stuff. More details below.
FIX_01 - ACCIDENTALLY LAUNCHING THE SERVER CONFIG VIEW
If you configured a Bootcamp (bot) match and clicked
NEXT
in the mutator menu, it took you to the listen server configuration view. This should no longer happen.
FTR_01 - SCI-FI/TECH THEME
A new visual theme (sci-fi tech based) that comes with a
bazillion
of new assets for the game.
FTR_02 - 14 NEW MAP: DEKK

V0.7
DEKK introduces our freshly designed sci-fi theme: The map is based on an over a decade old layout introduced by UT, now reincarnated with clean, yet highly refined/accentuated 3D assets, keeping visual clarity and simplicity in mind.
To learn more about DEKK, hop into the game or check out our
When testing the map, please keep in mind that it's v0.7 (i.e. you may still encounter some collision issues and/or other "unusual occurences").
FTR_03 - DISABLE ON-SCREEN LOG
You are an anti-social individual who doesn't care about team-play and you don't want to talk to anyone? You feel distracted by the on-screen log? This feature is for you: "On-Screen log disable" was added to the game options.
FTR_04 - ADJUSTABLE HEALTH WARNING
If you think that the current HUD is too subtle about how low your health status is, you can now set a limit where the health indicator starts to flash in the game options.
FTR_04 - MULTI SCREEN SUPPORT (EXPERIMENTAL)
Yes, we had quite a few requests about advanced multi screen support and we decided to look into it. This whole stuff is still highly experimental, but if you were one of the users waiting for that feature, you may want to try to type "SetHudDimensions [xValue] [yValue]" to distribute the display of the HUD onto your multi-monitor setup.
EXAMPLE:
If you have three screems standing side by side and assuming that all three are set to the same resolution, type: "SetHudDimension 3 1" to allign the HUD to the screen in the middle.
FTR_05 - MAX DAMAGE BOOST
When picked up, it'll heavily increase the damage caused by each shot for a limited amount of time.
CHG_01 - INTRO DISPLAY
Starting a new map now always brings up the name of the map and its location centered on the screen in big letters. Press left to skip this and to enter the pre-match lobby.
As always, we're very excited to hear your feedback on this update...