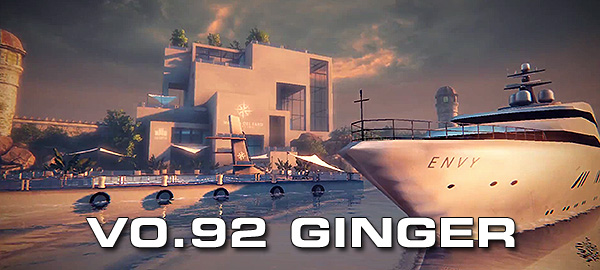 RELEASE DATE: DECEMBER 01, 2015
----------------------------------------------------------------------------
This patch brings your v0.9 Ginger build up to v0.92. It comes with a new visual theme (old town/castle), a new map (AD-Castello), a new game mode (Area Domination) and many new features and fixes. More details below.
FTR_01 - NEW VISUAL THEME: OLD TOWN/CASTLE
This theme concludes TOXIKK's visual themes. It comes with many medieval elements such towers, gates, walls and entire buildings. Perfect for any old European style town center or castle, but it also comes with some simplistic/modernistic architectural assets (as seen on the preview image above).
FTR_02 - 14 NEW MAP: CASTELLO

V0.7
Castello was designed for up to 16 players and introduces our new game mode Area Domination (AD). To learn more about Castello, hop into the game or check out our . When testing the map, please keep in mind that it's v0.7 (i.e. you may still encounter some collision issues and/or other "unusual occurences").
FTR_03 - NEW GAME MODE: AREA DOMINATION (AD)
A new team based game mode, where your team needs to capture and hold multiple objectives in a map. Holding these objectives (capture points) gains your team points. The team that reaches the goal score first, wins. This mode is currently available for Castello only, but will also be available for many other maps with the next patch.
FTR_04 - NEW IN-GAME CHAT LOBBY
You can now chat directly with everybody online using the new in-game chat client. This new feature is accessible from all menus in the game. You can also configure it to show global chat messages in your in-match log. You can also chat with all players using a standard IRC client (or a web interface).
FTR_05 - EXPERIMENTAL FEATURE: SCALABLE HUD
The HUD elements can now be resized. Type "SetHudScale [size in%]" to personalize their size. It may not sound all that exciting, but this is a pretty neat feature.
FTR_06 - SERVER BROWSER IMPROVEMENT
The server browser now shows the amount of players, bots and max players on a server. The format is X (Y) / Z (where X is the amount of human players, Y is the amount of bots and Z is the amount of maximum players allowed. In most cases a human player can jump in for a bot, if the amount of max players is reached.
FTR_07 - HUD IMPROVEMENTS
The HUD was improved to show the amount of remaining boosts if you have picked up a jet pack. We also added a cell icon to display if you're carrying the cell (flag). Both new displays are located in the lower left corner of the screen.
FIX_01 - MAP FIXES: DEKK
All reported issues with this map should be fixed. Please let us know if you find new problems with this environment.
FIX_02 - GAME STATE MESSAGES
The top center game state messages were broken and didn't display at all. This should now be fixed.
FIX_03 - OFF-SCREEN HUD BEACONS
The off-screen HUD beacons (arrows indicating the position of the cell) were broken for dropped and carried enemy cells. This should now be fixed.
FIX_05 - OCCASIONALLY APPEARING SPAWN EFFECTS
In multi-player matches you sometimes could see randomly appearing spawn effects. This bug accompanied us a long time... but should now be fixed.
CHG_01 - SCOREBOARD IS NOW ON TAB
The new default key for bringing up the scoreboard is TAB (finally). Don't ask why it was F1 for so long.
As always, we're excited to hear your feedback on this patch...