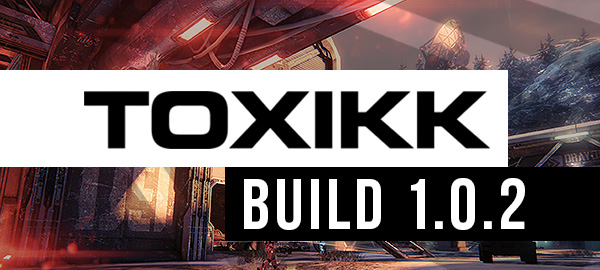 After two weeks out in the wild, TOXIKK gets its second update. All hail 1.0.2 Vanilla, the update to finally transcend TOXIKK into an entity of pure light and love. Let's take a look at what we did here:
01 - SKILL CLASS (SC) SYSTEM LIBERATED
The Skill Class (SC) based matchmaking system was liberated a lot. Instead of grouping various SC ranges into individual groups, SC matchmaking is now primarily used to distinguish between "A league" (SC 8-12) and "B league" (SC 1-7). Furthermore, even this last restriction can be overruled, if a player disables "SC Matchmaking" in the newly added Quick Join preferences (see below).
02 - NEW QUICK JOIN PREFERENCE: SC MATCHMAKING
SC (Skill Class) based matchmaking can now be deactivated in the Quick Join options. Simply go Multiplayer -> Quick Join to toggle SC matchmaking on or off (it's on by default). WARNING: Disabling SC restrictions will send you to servers open to all Skill Classes. Prepare to get destroyed by veteran AFPS players. You can turn SC based matchmaking on again, whenever you feel like you had enough of being stomped on.
03 - NEW QUICK JOIN PREFERENCE: FRIENDS ONLY
This is primarily interesting for Free Editions players: You can now force the client to primarily look for servers with friends. However, it is important that your friends either play on a server of your skill class range (if you have SC matchmaking enabled) or play on servers without SC restrictions.
04 - CERBERUS (ROCKET LAUNCHER): SPLASH DAMAGE RADIUS REDUCED
We heard you. Though, please be aware that the Cerberus is intentionally a strong weapon (pretty much like in many old-school APFS titles the RL was slightly (read: heavily) overpowered). We already nerfed it a LOT since the first Early Access days, where it was OP to an almost ridiculous level. With all the complaints, we were now ready to give it another damping and reduced its splash damage radius by 10%. Let's see what you guys think about the change. But keep in mind that it will always remain a powerful weapon (hence its name) which is not supposed to be entirely levelled with e.g. the Stingray.
05 - RAVAGER DAMAGE CHANGED
The Ravager, our beloved melee weapon, was slightly changed in the way it inflicts damage. The sampling rate when the active drill hits an opponent was increased, so was the damage itself. A bit hard to explain... best if you try it out yourself.
06 - 16 NEW CAMOUFLAGE SKINS
Yup, there now is a complete Zoo of camouflage skins. Have fun unlocking them. 1.0.2 also carries the new and founder exclusive skins, although these will not be available until we've sent out the keys to the founder (which will happen later this week).
07 - MAP ENHANCEMENTS: GANESHA AND ARTIFACT
Both maps received visual overhauls (and also some more collision fixes). While the upgraded look on Artifact may not be all that eye-catching, you'll notice the improved lighting on Ganesha instanly. Hope you like it.
08 - IMPROVED CHARACTER & VEHICLE VISIBILITY
Character and vehicle visibility was improved a lot, as we added a subtle self-illumination to them. They now strike out more from the background, while still looking like a natural element of the game world. Self illumination also increases, the further away a character or vehicle is.
09 - SERVERS FOR UP TO 16 PLAYERS ADDED
We added some servers for up to 16 players to allow for some big battles in e.g. the Twin Peaks maps.
10 - GLOBAL CHAT MESSENGER UPDATED
Toxikk's global messenger tool (the thing that you can click in the menus in the lower right of the screen) was greatly improved and should now finally work as intended. If you feel disturbed by global chat in your log, remember that you can disable global channel traffic in the game options.
11 - PLAYER BANS APPLIED
As usually, a bunch of convicted hackers were banned from the official servers. This did not happen via VAC ban, but using our internal tools. If you want to report hackers, please do so on our Discord server in the support channel. Please provide as much evidence as possible.
12 - MISC TECH FIXES
1.0.2 also brings some minor fixes e.g. to the Cube map distribution in the maps (visual fix), team matches in Contract mode happened partially playing on the wrong team (not the team that issued the contract), and you no longer need to release direction keys (W,A,S,D) after a respawn, to continue moving around.